Home
NOTICE TO MARINERS No 75/23 V2
FIRTH OF CLYDE
MILLPORT FLOOD PROTECTION SCHEME
BREAKWATER CONSTRUCTION
Mariners are advised that work to construct a new offshore breakwater in Millport Bay are planned from Monday 11th September until March 2024 as part of the Millport Flood Protection Scheme. The breakwater will be constructed between the small rock islands of The Leug, The Spoig and The Eileans as illustrated below.
The Millport Harbour Revision Order 20231 came into force on 31st May 2023 to enable the Flood Prevention Scheme to go ahead. Your attention is drawn to Part 2 Works para 7. "any rights of navigation within the harbour shall be extinguished to the extent only that the exercise of such rights would be prevented or hindered by the construction, presence, use or maintenance of the works authorised."
To this end, navigation within the harbour will be as illustrated below for the duration of the works.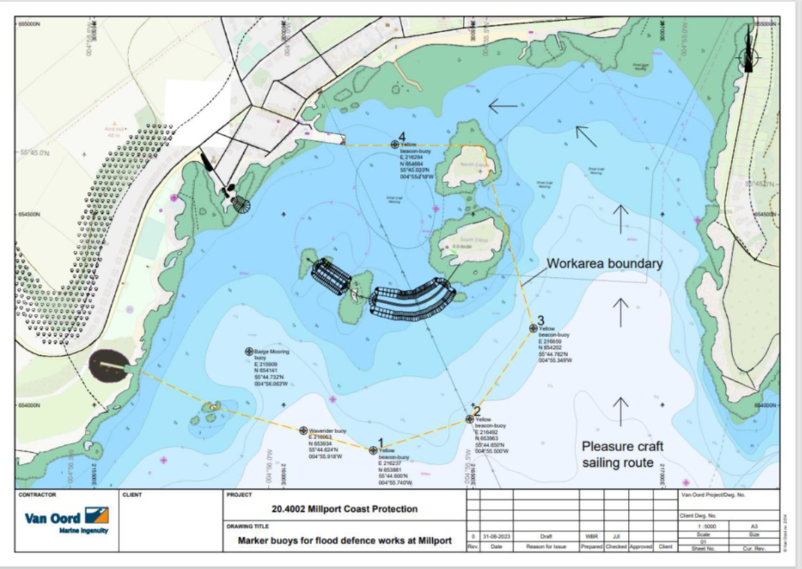 Fairlie Yacht Club offers its members a comprehensive programme of racing, cruising, and social events throughout the year. The Club is a non-profit organisation run by enthusiastic volunteers, which keeps our subscription rates and race fees at a modest level. Whether you are a boat owner or crew member, you can expect a warm welcome to the Club. Contact details are available on this website. Come along and give us a try!