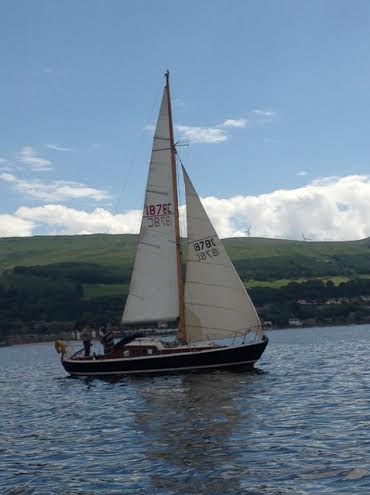 ROUND BRITAIN IN KUMALIE.
For those unfamiliar with the prettiest yacht in the world, Kumalie is
a little wooden double ended sloop (built1968) that has been cruised
and raced extensively over the 36 years in the Moore family. Sadly
neglected over the last 6 years due to hip replacements, business
pressures, weans at uni, sailing OP's (other peoples' boats) etc she
looked a sad sight at Fairlie quay until a happy union of quasi retirement,
severe guilt, and a substantial bet that she would never float again,
coincided.
So, 16 gallons of epoxy later, complete with new mast, rigging and
electronics way beyond me, the result is that as a swansong I am
taking her on a passage round mainland UK hoping to raise some
money for 2 charities,  Multiple Sclerosis and Brain Cancer research. 
I am picking up various crew along the way, who are all supporting
the charity effort in return for the questionable luxury of a few days
sailing a small yacht with 18in freeboard and 4 foot 6 headroom on
some stiff coastal passages. There is also a non refundable £2 levy
for any profanity uttered after bumping heads on overhead beams
in the cabin. Free bubble wrap and masking tape for skulls are
provided so there is no excuse. (Profanities uttered when drenched
are free of charge) 
So far we have stopped at Stranraer, Port Patrick, Peel, Holyhead,
Milford Haven, Padstow,Penzance, Salcombe, Lyme Regis, Weymouth,
Swanage, Gosport, Newhaven, Dover and currently Ramsgate. Trips
have varied from 40 to 130 Nm. Weather has generally been
favourable with force 5 or 6 NW down the west coast and force 3 to
5 SW along the south which all suits Kumalie, who as an old lady
thinks that going to windward is rather coarse and to be avoided.
Photos are included in the attachment and I hope that they are of
interest. They are not yet captioned as that technology is for brighter
people than me however in no order are : thunderstorm at Dover
harbour, sunrise at skomer, seafood festival at Weymouth and
approach to the needles. 
This is the first blog, (ooh get him, blog!,______his kids will be so
proud) which I have managed to send due to connection problems
and incompetence but more will soon follow with details of crew,
passages, navigation, and incidents like the eejit in the 45foot
Westerly who was so busy staring at his GPS on leaving Salcombe
narrow channel that he ignored the leading lights that we were
following and nearly ran us over!
Donations currently stand at £485 and if anyone feels able to contribute
to either Charity please go to the Just Giving pages below.  
www.justgiving.com/kumalie1
for MS and www.
justgiving.com/kumalie2
for Brain Cancer Research. Any donation is most welcome and I would be
obliged if they were split between the two charities.